NSC 2024
It is with great pleasure that we invite you to join us in the eighteenth National Surveyors' Conference taking place May 21 –24, 2024 at the Rodd Brudenell River Resort in Cardigan, PEI.  This event will once again be Co-hosted by Professional Surveyors Canada and Association of Canada Lands Surveyors.  The annual National Surveyors Conference is the only event that brings together professional surveyors, industry experts and leading speakers from across Canada and around the world to connect, share and learn about the Surveying Profession.
General Information
We are looking forward to seeing you in Prince Edward Island for the National Surveyors Conference!  We invite you to visit this website regularly, as more information becomes available on our Speakers and Sponsors pages.
In the meantime, here are some tips & tools to better prepare your stay in PEI:
Venue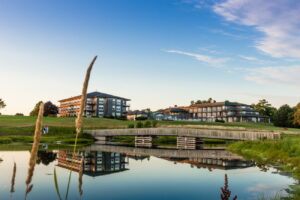 Rod Brudenell River Resort
86 Dewars Lane PO Box 67
Cardigan, PE
Canada C0A 1G0
Phone: (902) 652-2332
Website: https://roddvacations.com/hotels/rodd-brudenell-river/
Hotel Room Booking Link: https://bookings.travelclick.com/85520?groupID=3861825#/guestsandrooms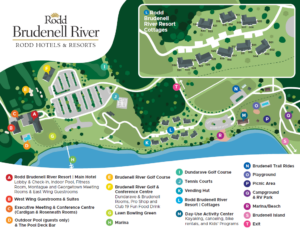 Language
Most conference presentations will be in English. Interpretation will be done via the Zoom meeting platform for online and in person attendees.  Presentation slides will be available in both English and French.
Insurance
The secretariat and the organizers of NSC 2024 cannot be held responsible for personal accidents, loss, or damage to personal property of conference participants or of persons accompanying them, whether during the conference or during events or activities. It is the sole responsibility of the participants to obtain travel, health, and personal property insurance.
Clothing & Weather
The dress code for the conference is informal for all occasions.
The average temperatures in PEI during the month of May are generally 15 °C (day) and 4 °C (night). Some rain is expected.
Travel Information – Getting Here
By Plane: Travelling to Charlottetown is made easy for your delegates through regular direct flights from several major hubs across Canada
MONTREAL QC & TORONTO ON – Montreal International Airport and Toronto Pearson International Airport are two major service hubs in Canada and feature numerous international flights. With direct flights to Charlottetown, it will take you approximately 1.5 to 2 hours.
CALGARY & EDMONTON AB – A direct service from Calgary or Edmonton to Charlottetown, will ensure your western delegates get to your PEI conference even sooner. These non-stop 4.5 hour flights connect Prince Edward Island to Western Canada.
OTTAWA ON – These two new flight additions will allow you to travel from Canada's capital to Charlottetown with ease in approximately 2 hours time.
Upon landing in picturesque Prince Edward Island, The Charlottetown Airport is located less than 45 minutes from the Rod Brudenell River Resort. Transportation to the venue from the airport will be made available at a later date. 
By Ferry – Northumberland Ferries departs from Caribou, Nova Scotia to Wood Islands, Prince Edward Island on a regular schedule. The trip takes 75 minutes and fare for the ferry is paid when leaving the Island.
By Bridge – The Confederation Bridge is a 13-km engineering phenomenon. Connecting from New Brunswick, the Bridge is open 24 hours a day and takes approximately 12 minutes to cross. Tolls are collected when leaving the Island.
Airlines
Air Canada (www.aircanada.com)
Reservations: +1 888 247 2262
Information: +1 888 422 7533
Canadian North (www.canadiannorth.com)
Reservations: +1 800 267 1247
Information: +1 800 661 1505
Flair Airlines (www.flairairlines.com)
Reservations: +1 855 936 5656
Porter (www.flyporter.com)
Reservations: 1-888-619-8622
Swoop (www.flyswoop.com)
WestJet (www.westjet.com)
Reservations: +1 888 937 8538 (+1 888 WESTJET)
Time Zone
PEI is in the Atlantic Daylight Time Zone (ADT) (UTC-03:00).
Useful Links and Maps
The official tourism site of the Government of PEI contains up-to-date tourism information and information on the public transportation system.