Exhibitors/Sponsors
It is with great pleasure that we invite you to take part in the sixteenth National Surveyors' Conference from May 11th to 13th in Kanata, Ontario, which will be held in conjunction with Professional Surveyors Canada.
The upcoming conference will be held at the Brookstreet Hotel. Spaces for exhibits have been reserved in the Grand Scheme Foyer of the hotel for May 11th and 12th.  These conferences are always well attended, as they are the only national professional surveyors' conference.  For the 2022 conference, we are expecting 200 surveyors.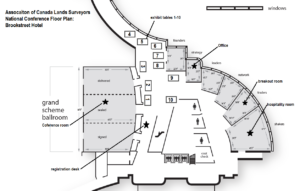 Application must be sent in before April 1st, 2022. Please fill out the application form and e-mail it to: admin@acls-aatc.ca. 
THE NATIONAL SURVEYORS CONFERENCE IS SPONSORED BY: